The 100 Best Martial Arts Books, Films, and Fights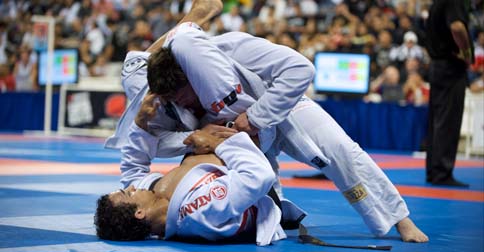 Gabriel Vella and Romulo Barral by John Lamonica (CC BY-SA 3.0)
Bruce Lee has inspired generations of martial artists, and he was one of the first pioneers to prioritise technquies that work over mindlessly following any particular martial arts tradition. His style was no style - or, rather, a mix of the best elements from each style.
The real revolution in martial arts happened in the early 90s with the Ultimate Fighting Championship. The Gracies brought their "Gracie challenge" to a large stage in order to prove their style superior to all others. Inviting competitors from a mixture of martial arts disciplines, Royce Gracie succeeded in defeating them all, and all subsequent competitors in the UFC had to adjust their training in response. Strikers had been exposed as extremely vulnerable to being taken to the ground and submitted with jiu-jitsu.
Thus a new era dawned; one in which, according to
Joe Rogan
, martial arts evolved more in the ten years following 1993 than in the preceding 700 years combined.
This list of The 100 Best Martial Arts Books, Films, and Fights reflects that evolution, including most of the main arts involved in mixed martial arts (mma).
Recommended lists:
100 Best Strength Training Books
.
---
Author:
David Thomson
Comments